Things to do
Here is a list of things to do. Check them all out, take a look around and you will fit right in. Click to see details
Attractions
Kittitas County Fair
Real old fashioned County Fair. Lots to see and do.

Address: 512 N Poplar Street Phone: 509-962-7639 Fax: 509-962-7010 Website: KittitasCountyFair.com
Snoqualmie Pass Train Tunnel
A 2.3-mile tunnel built between 1908 and 1911 for the railroad.

Address: Iron Horse Trail Lake Easton State Park Easton, WA
Casinos
Snoqualmie Casino
The newest and biggest high class casino in the state. Located just minutes off I-5 between Seattle and Snoqualmie Pass.

Website: SnoCasino.com
Charities
Outdoors for All
Provides year round programs for disable adults and children such as snowboarding, skiing, rock-climbing, river rafting, cycling and more.

Address: 6344 NE 47th St, Suite 102 Seattle, WA 98115 Phone: 206-838-6030 Fax: 206-838-6035 Email: Website: OutdoorsForAll.org
Festivals
Fall City Art
Address: PO Box 446, Fall City WA 98024 PO Box 446, Fall City WA 98024 PO Box 446 Fall City WA 98024 Phone: 425.222.0070 Website: FallCityArts.org
Fishing
Fishin' Magician Dave Graybill
Everything you need to know about fishing in the Northwest United States. Dave Graybill has 40 years of experience. You can read his column on numerous newspapers and on radio stations.

Address: P.O. Box 78 Wilson Creek, WA 98860 Email: Website: FishingMagician.com
Museums
Railway Museum
Address: 38625 SE King Street, Snoqualmie, WA Website: TrainMuseum.org
River Rafting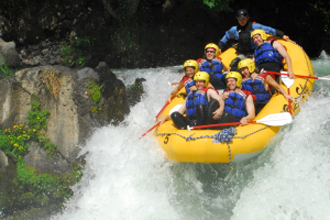 Featured
Blue Sky Outfitters
Raft the best rivers around with the most experienced guides. Clean and state-of-the-art gear and great food too. Safety is always first.

Address: 3400 Harbor Ave SW #105, Seattle, WA 98126
Skiing Downhill
Summit at Snoqualmie
An hour from Seattle, the Ski Area is easy to get to and fun year round. In Winter there are 94 ski trails and 2,280 feet of vertical drop, spread over 1,100 acres.

Address: Snoqualmie Pass Website: SummitAtSnoqualmie.com
Snowmobiling
Leavenworth Power sports
Snowmobile and ATV rentals by the day. Delivered to your location. Training provided

Phone: 509-264-4092 Email: Website: LeavenworthPowerSports.com